Hot off the presses ... I wonder if this qualifies as a pre-holiday 'news dump'?
Those Solar Projects are starting to sprout up like weeds ... keep em coming ...

Interior Dept. approves solar, wind farms in West; pushes offshore wind in Atlantic Ocean
by Associated Press, washingtonpost.com -- Dec 20, 2011

[...]
Interior Secretary Ken Salazar said his department has approved a 300-megawatt solar farm on public land in Arizona and a 200-megawatt wind farm in Southern California. The wind farm includes 186 megawatts that would be produced on federal lands.

The projects, southwest of Phoenix and east of San Diego, respectively, are the 24th and 25th renewable energy projects approved on public lands in the past two years, Salazar said, and demonstrate that the administration's commitment to renewable energy is paying dividends.

"Together, these projects will produce the clean energy equivalent of nearly 18 coal-fired power plants, so what's happening here is nothing short of a renewable energy revolution," Salazar said.

[... even more plans ...]

I guess that most of these must have finally gotten off the "Drawing Boards" ...
... and into the business of actually moving us towards real Energy Independence.

As of 2010, these Projects were only 'good ideas' ... nice to have someday:
Solar Zones on the US Energy Drawing Boards
by jamess -- Mar 18, 2010

Well maybe, 'someday' has arrived. Merry Xmas!



Here's another Solar Project that recently went from "Green Dreams"
-- to "Green Jobs," thanks to the executive actions of a Democratic-led Dept of the Interior. (It's miles better than what a GOP-lead DOI would do, trust me.)

Secretary Salazar Approves 550 Megawatt Solar Project in Riverside County, California
U.S. Department of the Interior, Bureau of Land Management -- Aug 10, 2011
Largest solar-photovoltaic facility on public lands to create over 600 jobs, inject $336 million into local economy
WASHINGTON, DC – Secretary of the Interior Ken Salazar today approved the Desert Sunlight Solar Farm, a 550-megawatt (MW) solar power project to be built in the California desert east of Palm Springs. The solar-photovoltaic facility will create more than 630 jobs at peak construction and infuse an estimated $336 million into the local economy. When built, Desert Sunlight will generate enough energy to power over 165,000 homes.

"The Desert Sunlight Solar Farm is the largest photovoltaic facility Interior has approved thus far and, when built, will help power our nation and economy," Secretary Salazar said. "With 12 large-scale solar projects approved in the last 18 months, we continue to make significant strides in spurring innovation, job-creation, and investment in the private sector while strengthening America's energy security."

Located on approximately 4,100 acres of public lands, the solar project will be developed and operated by Desert Sunlight Holdings, LLC, a subsidiary of First Solar Inc. The facility will use First Solar's thin film photovoltaic (PV) technology, which generates electricity with low visual impact, no air emissions, waste production or water use, and has the smallest carbon footprint of any PV technology. An on-site substation and a 230-kiloVolt (kV) generation tie line will connect the project to the Red Bluff substation which will convert the power from 230 kV to 500kV for transmission on Southern California Edison's regional grid.
[...]

Here are some more recently ...
Approved Renewable Energy Projects -- BLM California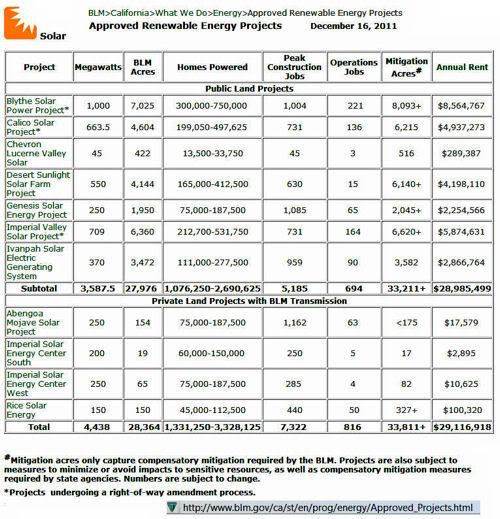 larger
Employing around 14,000 people, and powering about 6 Million homes.
Green Power -- All from the sun and wind.
And that's just the projects in California alone.
First Solar constructed this photovoltaic array in southern Nevada.
This would be similar to the Desert Sunlight project.
photo credit: Basin & Range Watch
from site: Environmental Commons

This is Progress, even though there have been some road-bumps, and tedious review-processes, along the way:

Feinstein wants desert swath off-limits to solar, wind
by Richard Simon, latimes -- March 25, 2009

[...]
The Bureau of Land Management is reviewing 130 applications for solar and wind energy development in the California desert, covering more than 1 million acres of public land, according to Feinstein, who recently discussed her concerns with Interior Secretary Ken Salazar. At least 19 projects have been suggested in the area where the monument has been proposed, Myers said.

Salazar said in a letter to Feinstein that projects in the desert would be "carefully considered" before any decisions were made and that "every effort will be made to avoid the most environmentally sensitive and valuable areas." But he also noted that developing cleaner energy sources was a priority.

Once again, this is miles better than what a GOP-lead DOI would do.
Remember the GOP -- that Party that would abolish the EPA, if only given another chance.
Somehow, they must NOT be given that chance. If we ever hope to recapture our 99% future, that is.

"We're all in this together" -- should include our Green Energy future, too. Electric Power really should belong to the public, not the wealthy few, don't you think.